RACCOON RIVER VALLEY RESIDENCE, BOONEVILLE, IOWA

I completed this project while with Shiffler Associates in Des Moines, Iowa. This 5,500 square foot 4 bedroom home is located above the Racoon River east of Des Moines. The site is at the end of a long hump-back ridge, facing due east with the city skyline in the distance. This new home was carefully sited in a heavily wooded lot to preserve the best trees and take advantage of the vistas and more intimate views available. Each room allows a different experience of the site's natural beauty.
The couple has three children and leads a very active life style entertaining often. Most parties end up gathered in the kitchen around her delicious cooking so the flow of the house leads to the kitchen which is open to most of the house and allows comfortable gathering while she performs her magic.
The master suite is on the northeast corner minimizing heat gain during the hot Iowa summers. The couple also enjoy the sun breaking over the valley in the morning. The laundry is located in the closet area to make this chore more efficient and less work. The master bath is designed around a large tub with generous shower and separate lavatories for these two executives.
The forms are traditional but with modern touches like open planning and large areas of glass. The steep roof and shallow overhangs create a familiar but unique composition that is both English manor house and a modern home that supports an active lifestyle.

FIRST FLOOR PLAN


ALL THE ROOMS OPEN TO VIEWS TO THE EAST OR SOUTH. THE PLAN TAKES ADVANTAGE OF THE SITE SLOPE TO CREATE A WALK-OUT LOWER LEVEL (NOT SHOWN) UNDER THE KITCHEN AND FAMILY ROOM.


---

SITE PLAN


THE LOT IS ON THE END OF THE RIDGE LINE FACING EAST. THE SITE SLOPES STEEPLY DOWN TO THE SOUTH & EAST WITH A MORE GENTLE SLOPE TO THE NORTH.


---
Powered by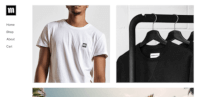 Create your own unique website with customizable templates.